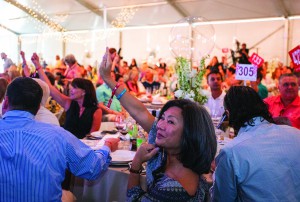 Paddle Raise
A tradition Destin Charity Wine Auction Foundation is particularly proud of is the "Paddle Raise." The year Destin Charity Wine Auction Foundation was created, Chan Cox, DCWAF founder, lost his 30 year old son, Clinton, to the devastating effects of addiction. A memorial fund was created to bring awareness and build a legacy for Clinton from the proceeds of a paddle raise at the live auction. This year, DCWAF broke from tradition and raised money for all 16 benefiting children's charities rather than dedicating the paddle raise to one, specific charity. For the first time, the first $65,000 raised through the paddle raise was matched by Bill & Cheryl Stegbauer, Stephen & Joan Carter, and the Alys Beach Foundation.
$130,660
PADDLE RAISE REVENUE
Top Selling lots
Fly Away to Kamalame Cay
Raising $105,000 was a five night trip to Kamalame Cay for four couples complete with private round-trip airfare courtesy of NetJets. This incredible trip included luxury accommodations, spa services, a sunset cruise, private island picnic, and more.
Retreat to Little Dix Bay
Raising $62,500 was a seven night stay featuring Honorary Chef Tim Creehan and Honorary Vintner Todd Newman, private accommodations in a four-bedroom beachfront villa, and two days of island hopping for four couple.
Magnum Force
The auction kicked off with the Magnum Force lot (50 autographed magnums from DCWAF vintners past and present), which raised $55,000.
Other Top Grossing Lots
Other notable lots included a seven-day trip donated by Steve & Bridgit Griessel of Betz Family Winery to the South African winelands and Molari Lodge that sold for $50,000, an immersive trip to Tuscany that sold three times for a total of $102,000, and a rustic trip to Jackson Hole which sold twice for a total of $68,000.
HOW TO DONATE LOTS: Contact Destin Charity Wine Auction Foundation at [email protected] or call (850) 650-3732
to submit your donation or request more information.