Events: 2015-2016 In Review
11th annual Destin Charity Wine Auction
April 29 – May 1, 2016
The Destin Charity Wine Auction Weekend, recognized as one of the Nation's "Top 10 U.S. Charity Wine Auctions" by Wine Spectator Magazine for the fourth consecutive year is the Foundation's largest annual event, and takes place over the last weekend of April each year. The event draws wine aficionados, gourmet chefs and celebrity vintners from around the globe to enjoy world-class wines in the picture-perfect setting & white sand beaches of the Northwest Florida's Emerald Coast. Funds raised benefit 14 local charities impacting the lives of children in need.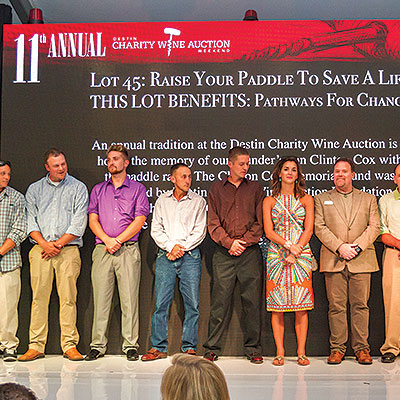 Paddle Raise
A tradition Destin Charity Wine Auction Foundation is particularly proud of is the "Paddle Raise." The year Destin Charity Wine Auction Foundation was created, Chan Cox, DCWAF founder, lost his 30 year old son, Clinton, to the devastating effects of addiction. A memorial fund was created to bring awareness and build a legacy for Clinton from the proceeds of a paddle raise at the live auction. Pathways For Change is a faith based organization funded initially by Baptist Hospital in Pensacola, Florida. Since 2005, PFC has served hundreds of men in intensive substance abuse treatment. Their mission of Changing Lives, Reducing Crime, Building Futures is actively preventing heartbreaking losses. Since 2007, DCWAF has raised over $1,000,000 so men and their families could be set free to live the lives God intended for us all.
$216,250
PADDLE RAISE REVENUE
---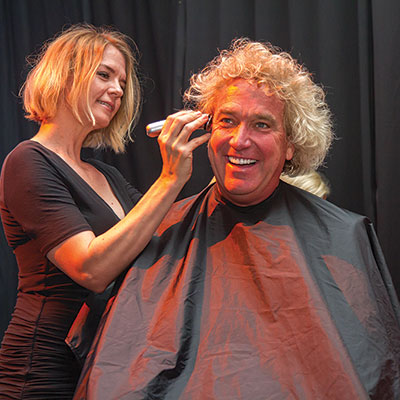 ---
Top Selling lots
---
celebrity vintners
celebrity chefs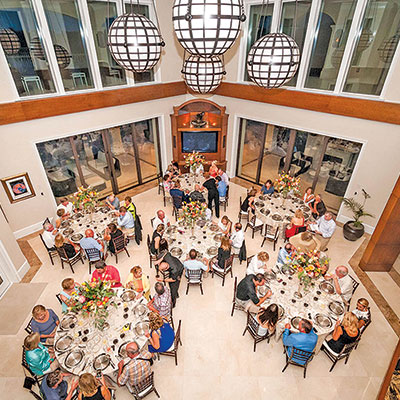 PATRON DINNERS
During the Wine Auction weekend, 14 Patron Dinners were held in notable restaurants and private homes in the area. These dinners pair celebrity chefs with participating vintners to create a memorable dining experience for every attendee. The Foundation is especially thankful to the Patron Hosts who opened the doors to their homes and restaurants and set the stage for the auction weekend. Auctions at each of these dinners recorded revenues of over $530,000, with $201,000 raised at the Bijoux dinner hosted by Jim and Tammy Pierce featuring Emmolo Wines, Amizetta Estate Winery, and Chef Jack McGuckin.
"It is our hosts who create the anticipation for the auction, it is our hosts that take such great care of our vintners and chefs, and it is our hosts who start us off with great auction revenue from their dinners. Each is an amazing contributor to the success of our mission and truly a force for good in our community," marveled Russell.
$533,832
TOTAL PATRON AUCTION BIDS
Patron & Restaurant Dinner Hosts
Don & Janis Bishop
George & Stephanie Brannon Jr. with Cory & Hillary Fosdyck at Churchill Oaks
Dr. Bill & Pam Burden
Christine Carter & Ken Bryant
Stephen & Joan Carter
Jeanne Dailey & Jay Nettles with Ben & Tiffany Edwards at the Culinary Center
Jeff & Doreen Eckmann

Dr. Eric Goldberg & Dr. Diana Melazzo with Dr. Gary Banks
Don & Cathy Hay, Charlie & Betty White, with Fred & Susan Marks
Jim & Tammy Pierce at Bijoux
John & Margaret Sheehan at Seagar's Prime Steaks & Seafood
Jane Solomon & Colin Mayo
Tim & Pamela Wellborn with Chef Tim Creehan at Cuvee Bistro
Jack & Candis Wilson
Reserve Tasting Restaurants
Live auction Chef
Chris & Ivy Trovas of Wild Olives
---
Other Events
25th Annual Seaside Seeing Red Wine Festival
November 5-8, 2015
The SEASIDE® Seeing Red Wine Festival has grown to be a sell-out event, attracting wine connoisseurs and novices alike. The Seeing Red Wine Festival has been recognized as one of the "Top 10 Can't-Miss Fall Wine Festivals" by Fodor's Travel.
The four days of festivities include reserve wine tastings, dinners, and a brunch with featured guest winemakers. Several of Seaside's well-known restaurants showcase how their farm-to-fork and gulf-to-table offerings pair beautifully with the featured red wines.
$410,314
Seeing Red Wine Festival Revenue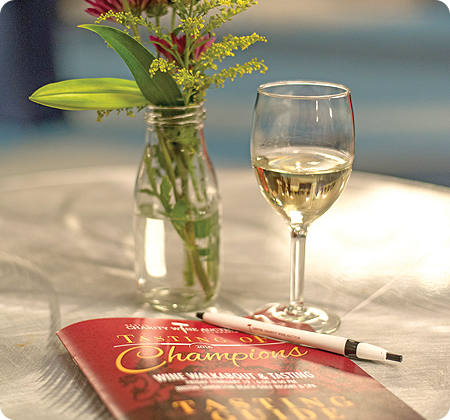 Tasting of Champions
February 19, 2016
The Tasting of Champions Wine Walkabout and Tasting took place at Hilton Sandestin Beach Golf Resort & Spa. Guests were able to sample more than 600 wines entered for the 2016 South Walton Beaches Wine & Food Festival, including the medal winners for 60 categories. Tasting of Champions premiers these wines and offers an early opportunity to sample.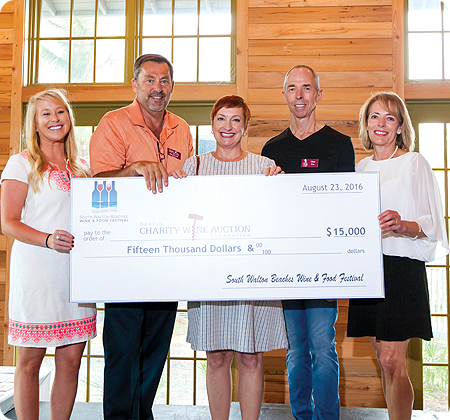 South Walton Beaches Wine & Food Festival
April 28-May 1, 2016
The Northwest Florida Beaches Ultimate Wine Weekend is the last weekend in April each year. We are lucky to partner with the South Walton Beaches Wine and Food Festival. Both events take place on the lawn of Grand Boulevard and a handful of vintners participate in the festivities of the entire weekend. The 4th Annual South Walton Beaches Wine and Food Festival featured 800 wines, poured by notable national and international wine celebrities including Cristina Mariani-May of Castello Banfi, Jeff Mausbach of TintoNegro Wines and Ronan Laborde from Chateau Clinet.
Destin Charity Wine Auction Foundation benefits from the proceeds of the South Walton Beaches Wine & Food Festival. This year we graciously accepted a check for $15,000 to help further our mission.

"We are filled with joy to be able to play even a small role in the success of DCWAF's mission, which goes to the heart of our community – taking care of our children and families. We take great pride in our partnership and hope to make contributions for many years to come."

– Stacey Brady, Executive Director, South Walton Beaches Wine & Food Festival and Marketing Director, Grand Boulevard at Sandestin