Events: 2014-2015 In Review
10th annual Destin Charity Wine Auction
April 25, 2015
The Destin Charity Wine Auction Weekend, recognized as one of the Nation's "Top 10 U.S. Charity Wine Auctions" by Wine Spectator Magazine three years in a row is the Foundation's largest annual event, and takes place over the last weekend of April each year.
The event draws wine aficionados, gourmet chefs and celebrity vintners from around the globe to enjoy world-class wines in the picture-perfect setting & white sand beaches of the Northwest Florida's Emerald Coast. Funds raised benefit 14 local charities impacting the lives of children in need.
Paddle Raise
A tradition Destin Charity Wine Auction is particularly proud of is the "Paddle Raise". The year the Destin Charity Wine Auction Foundation was created, Chan Cox, DCWAF founder, lost his 30 year old son, Clinton, to the devastating effects of addiction. A memorial fund was created to bring awareness and build a legacy for Clinton from the proceeds of a paddle raise at the live auction. Pathways For Change is a faith based organization funded initially by Baptist Hospital in Pensacola, Florida. Since 2005, PFC has served hundreds of men in intensive substance abuse treatment. Their mission of Changing Lives, Reducing Crime, Building Futures is actively preventing heartbreaking losses. Since 2007, DCWAF has raised over $1,000,000 so men and their families could be set free to live the lives God intended for us all.
$221,750
PADDLE RAISE AMOUNT
---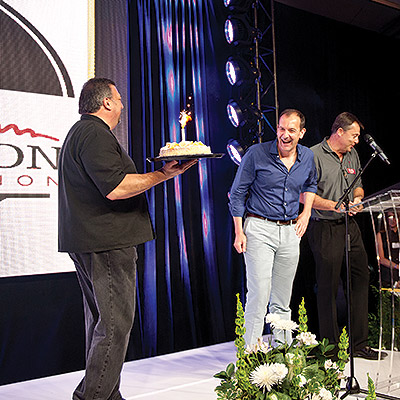 ---
Top grossing lots
---
celebrity vintners
celebrity chefs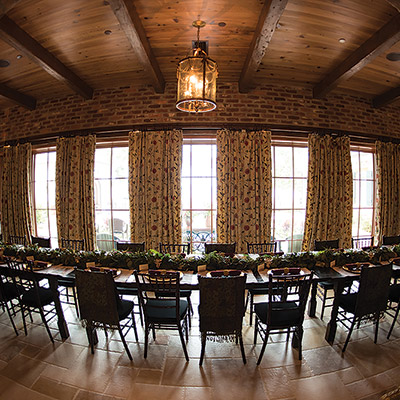 Thank You
In addition, during the Wine Auction weekend, 13 Patron Dinners were held in notable restaurants and private homes in the area. These dinners pair celebrity chefs with participating vintners to create a memorable dining experience for every attendee. At each dinner, a charity representative attends and an auction takes place to help raise funds for the needs of that charity, whether it be counseling hours, construction or renovation, medical care, etc. These dinners brought in over $100,000 more than last year. A huge thank you to each and every generous patron, and especially to the hosts who went above and beyond delivering such a special evening.
$357,874
TOTAL PATRON AUCTION BIDS
$279,500
AUCTION PATRON TICKETS
Patron & Restaurant Dinner Hosts
Glenn & Dana Armentor
George Jr. & Stephanie Brannon with Cory & Hillary Fosdyck
Ken & Rachel Brown
Stephen & Joan Carter
Christine Carter & Ken Bryant with Demetrius Fuller
Tina & Bryan Corr at Cuvee 30a
Jeanne Dailey & Jay Nettles at Culinary Center
Gary & Carolyn Dietzen
Don & Cathy Hay
Richard & Demetria McNeese with Leslie Levy at Bijoux
John & Margaret Sheehan at Seagar's Prime Steaks & Seafood
Jane Solomon & Colin Mayo with Don & Janis Bishop
Jack & Candis Wilson
Reserve Tasting Restaurants
Live auction Chef
Chris & Ivy Trovas of Wild Olives
---
Other Events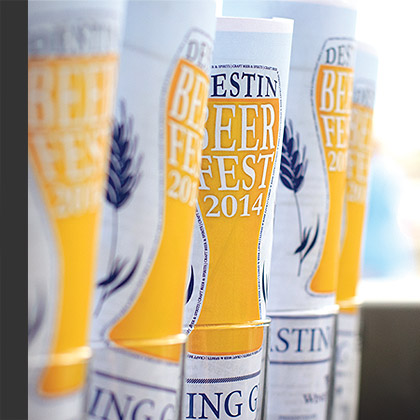 Destin Beer fest 2014
September 27, 2014
The Destin Beer Fest took place in Paradise Key Shopping Center at Chan's Wine World. Presented by Wine World and ResortQuest by Wyndham Vacation Rentals, the festival offered Craft Beer, Craft Spirits, a VIP tasting, food from local restaurants, and live music. In addition, this year breweries and local businesses donated auction items to include homebrew kits, brewery memorabilia, coolers, t-shirts, a dinner provided by SweetWater Brewing Company, and more.
Golf tournament fore kids
October 20, 2014
Santa Rosa Golf & Beach Club hosted Destin Charity Wine Auction Foundation and our supporters for the 2nd Annual Golf Tournament FORE KIDS. Awards and hors d'oeuvres followed at Vue on 30a. Winners of Longest Drive, Closest to the Pin, and Longest Putt were all awarded. Gold Ring Gulf Dist. donated beers for the tournament and all of our charities were there to cheer teams on at each hole and offer contests and games. Additional event sponsors were Miracle Strip Wireless, Merrill Lynch: Krueger, Fosdyck, & Associates, and Taylor Chandler LLC.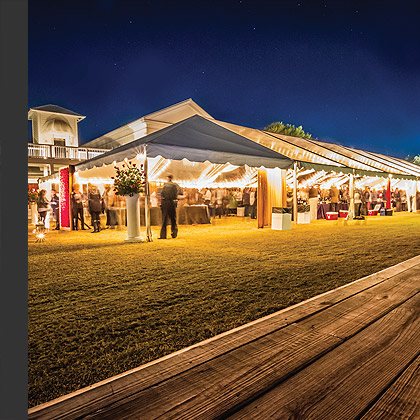 24th annual seaside seeing red wine festival
November 6-9, 2014
The SEASIDE® Seeing Red Wine Festival has grown to be a sell-out event, attracting wine connoisseurs and novices alike. The Seeing Red Wine Festival has been recognized as "Top 10 Can't-Miss Fall Wine Festival," by Fodor's Travel.
The four days of festivities include reserve wine tastings, dinners and a brunch with featured guest winemakers. Several of Seaside's well-known restaurants showcase how their farm-to-fork and gulf-to-table offerings pair beautifully with the featured red wines.
$225,955
SEEING RED WINE FESTIVAL TICKET SALES
$30,580
FALL WALKABOUT & CHARITY WINE AUCTION TICKET SALES AND SILENT AUCTION REVENUE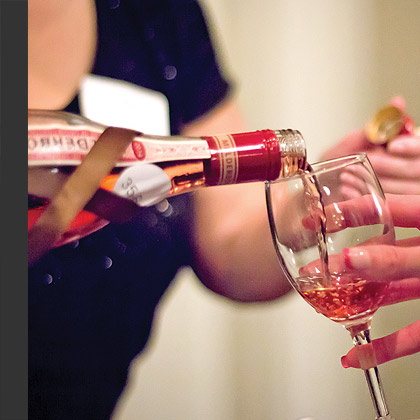 2015 South Walton Beaches Wine & Food Festival
January 30, 2015
The Tasting of Champions Wine Walkabout and Tasting took place at Hilton Sandestin Beach Golf Resort & Spa. Guests were able to sample more than 600 wines entered for the 2015 South Walton Beaches Wine & Food Festival, including the medal winners for 60 categories. Tasting of Champions premiers these wines and offers an early opportunity to sample.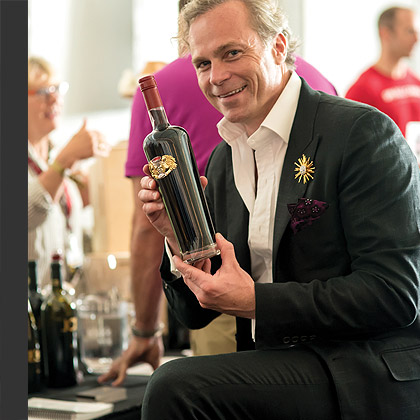 South Walton beaches Wine & Food Festival
April 24-26, 2015
The Northwest Florida Beaches Ultimate Wine Weekend is the last weekend in April each year. We are lucky to partner with the South Walton Beaches Wine and Food Festival. Both events take place on the lawn of Grand Boulevard and a handful of Vintner's participate in the festivities of the entire weekend. The 3rd Annual South Walton Beaches Wine and Food Festival featured 800 wines, poured by notable national and international wine celebrities including Marc Perrin of Chateau de Beaucastel and Jean-Charles Boisset of the Boisset Collection.
Destin Charity Wine Auction Foundation benefits from the proceeds of the South Walton Beaches Wine & Food Festival. This year we graciously accepted a check for $10,000 to help further our mission.

"We are humbled by the good works of DCWAF and committed to our close collaboration that presents the ultimate wine weekend, brings joy to so many and ultimately does so much good for children in need in our community. Our partnership with DCWAF is the perfect pairing!"

– Stacey Brady, Executive Director, South Walton Beaches Wine & Food Festival and Marketing Director, Grand Boulevard at Sandestin